Durable Double Leaf French Door
If you are renovating your property and would like to revamp it by adding new inner our outer doors, then take a look at our collection of French double leaf French doors. We have a large range of doors for people to choose from, including sliding and bifold doors as well as traditional French swinging doors, and our popular selection of double leaf French doors.
We work with a number of different builders in Malaysia, and we are proud to offer a large selection of doors, including off the shelf ones in common sizes, as well as doors that are custom made to suit your home.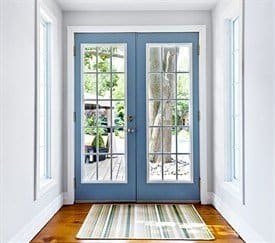 All of the doors we sell come with robust guarantees, so you can be confident that they will last for many years without warping or cracking and that they will be well-made and look stunning for a long time to come.
We offer competitive prices and the best quality for every product, and we take pride in giving people designs that they will love. We know how hard it is to budget for a renovation project, and that deciding between different door designs can sometimes be tricky, but we take pride in offering high quality designs and a lot of choice. We have been serving Malaysia for many years and in that time we've put together a huge range of doors for commercial properties and residential properties alike. Our expertise and passion shines through in everything that we do, and we hope that we will have the chance to share that with you and be a part of your next interior design.