Types and Application of Pantry Door
We construct, install and supply any types of pantry door, available in different colours, sizes, shapes, designs and materials. Our pantry door is specifically designed and constructed to fit any pantry or storage space in your home or office kitchen.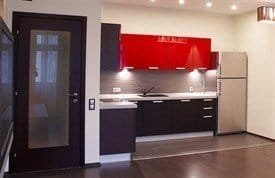 Features of a Pantry Door
Installing a pantry door makes your kitchen attractive and maximizes space.
It provides excellent simplicity and organization of food items in the kitchen, utilizing space wisely and allowing convenience for everyone.
It offers accessibility and visibility, making it a great addition to the pantry.
It comes in various materials such as glass, wood, PVC and other custom materials available upon your request.
It can be made with stained or tampered glass, working best modern homes. You may also go for an etched or frosted glass design. On the other hand, you can also choose a French door design if your space is decorated using French materials.
It can be customized with a specific doorknob design and material, depending on your chosen pantry door.
Contact Us for Your Pantry Door Design
Our showroom features most types of doors suiting your kitchen pantry style and theme. We invite you to take a peak on our wide array of offerings that can match your preference and style.
WhatsApp us or fill in the contact form now!