For practicality and style, a composite door, a type made from different materials is better than the traditional that is made from only a single kind of material.
Composite doors are commonly made from fiberglass and PVC skin applied to the fiberglass surface.
Great engineering is what separates our composite doors because we can keep a door's aesthetic and structural characteristics notable of composite doors.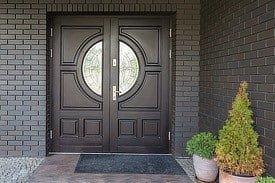 Insulating foam
Reinforced plastic
Others
*Materials vary from purpose or use
Benefits of Composite Door
Easy maintenance. It only requires occasional wiping of the surface using damp cloth. It does not need repainting, but you can paint it with your choice color if you wish to as well.
Thermal efficiency. It works better than solid wood doors for insulation efficiency.
High security. A composite door can be equipped with multi-locking systems, such as shoot bolts, dead locks and hook locks; these qualities make it a great choice for factories, garages and warehouses.
Super durable. It can last up to 35 years because it is resistant to twisting, warping, bowing or denting.
Aesthetic characteristics. Composite doors are available in colors and styles and come in various finishing, including a wooden finish.
Environment-friendly. One is made from 100% CFC-free insulating foam, keeping normal indoor temperature without harming the environment.