Various Styles of Office Sliding Doors
Add a touch of style to your office with our selection of office sliding doors. These doors can be great space-savers, and offer the flexibility of providing you with large, open areas when you need them, while still providing privacy and noise or heat insulation when required.
Our office sliding doors are simple and stylish, and come in a range of designs to suit most office decorative styles. From understated wooden frames that have a charming classic look, to sleek aluminium frames that are perfect for a more modern layout, we have something for everyone.
Most Sizes Available
We have doors in all popular sizes, so if your office is in a decently modern building it is likely that we will already have your size of door in stock. We do offer a bespoke door manufacturing service, so if you need doors in a more unusual size please do not hesitate to call us. We would be happy to discuss your needs and work on a custom design for you.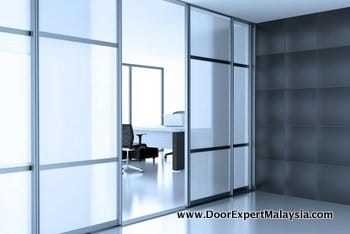 Sliding doors have numerous benefits over standard doors. The simple sliding rail design is a useful space saver, leaving you with more floor space for essential office furniture. In addition it looks sleeker and more modern, and it offers accessibility benefits for wheelchair users and those who might otherwise struggle with a hinged door. The roller setup is usually lighter and easier to move than trying to struggle with swinging a door on a hinge.
In addition, sliding doors move on a track, so you don't have to worry about the noise of them slamming shut. They will glide open and closed with barely a whisper. If you're sick of the thud of your office doors as people come and go, then this is a handy addition.
Your Leading Door Supplier
We are Malaysia's leading supplier of office doors. We have many years of experience working with both commercial property owners and domestic homeowners, and we are committed to using our experience, expertise and purchasing power to find the best doors on the market. Our custom made doors are made to the highest standards, using only the best materials, and we source ready-made doors that are durable, robust, and made using sustainable materials wherever possible. Our contractors are highly trained and reliable, and we offer installation as standard on all of our doors. Call us today to learn why so many business owners make us their first and only stop for office doors.