Impressive Office Door
Put your best foot forward and make a great first impression for clients and other visitors with our polished, stylish and chic office doors. These doors are designed to keep your office secure, while adding a touch of style at the same time.
We have office doors in a range of styles, including glass doors, uPVC, wood, laminate and more. Our range includes fire doors at various ratings to cover your legal requirements. We have doors that are strong, heavy and offer good sound insulation, as well as glass doors that let lots of natural light flow through the building to offer the nicest working environment.
Every door we sell comes with all of the hardware that is needed for it, and we offer installation as a part of our standard service. So, if you're expanding or redesigning your office and you're looking to add some extra style and functionality to the layout, why not give us a call. We can help you get the perfect look. We have doors that offer extra security, as well as options that are great for meeting rooms, ones that offer sound insulation, and more. Whether you're aiming for rustic or modern, industrial or classic, there is something that will match the decor of your office, and give you the look and feel that you need for a safe, secure and pleasant working environment. Our catalog is sure to impress with its variety.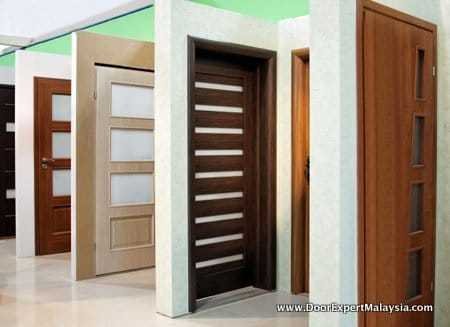 Doors in Any Size
We have most popular sizes in stock, and if you need something wider or taller than average we can help you there too. We make doors to order when required. Just let us know the measurements and the style that you want and we will do a bespoke design for you. We can offer sidelights and transoms if required to accommodate your building's layout.
The Best Materials
We are a leading supplier of doors to Malaysian property owners. We source only the highest quality materials and the best doors from reputable manufacturers. We use highly trained, professional contractors, and our customer service team is here to help you find the perfect products for your property. They can offer advice on materials, sizes and designs to ensure that you get the best possible door for your needs. Why not give us a call today, and learn why we are considered to be one of the top Malaysian door companies.