Stunning Patio French Doors
Patio French doors are a stunning entryway option that offers great views and that allows you to divide your garden area from the rest of your home. We are a leading supplier of such doors to the Malaysian marketplace. We offer a range of stylish patio French doors including ones made from wood, uPVC and aluminium.
Our doors are made to the highest standards, and come with robust guarantees. We take pride in offering strong, secure and great looking doors. We do not supply hardware with our doors, because we know that most people prefer to pick their own hardware to match the rest of the property. This means that we are in a good position to offer the best prices on our doors.
If you aren't sure what size of door to purchase, please don't hesitate to get in touch with us. Our team of sales people would be happy to discuss your options with you, and ensure that you get the best possible door to suit your home. They will explain how to measure doors properly, and what the different sizing options are, as well as help you to pick out a door with sidelights if you have a particularly unusually sized opening.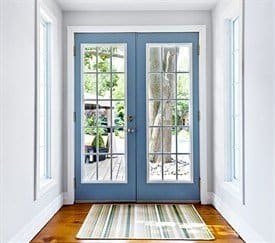 We have many years of expertise in this market, and we work with both Malaysian homeowners and with building companies and contractors. No order is too big or too small. We stock a wide range of doors – not just patio french doors but sliding doors, interior and exterior folding doors and more. Whatever it is that you need for your next renovation project, you can be confident that we have the right product, and at the right price too. Give us a call today to see why so many Malaysians choose us as their supplier.