Beautiful Bifold French Doors
Are you working on a home renovation, or even a new build? If so, then we've got great news for you. Choosing your new doors has just become a whole lot easier thanks to our stunning selection of bifold French doors.
These folding doors offer a simple way to join two rooms with a large set of doors that will swing and fold to create a big opening when needed, but can be shut for privacy when that is preferred.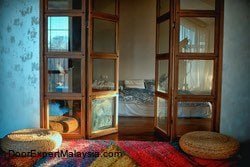 Bifold french doors are popular for linking living rooms and kitchens, but you can use them to join a dining area to a large hallway, or for many other areas as well – such as the living area and the conservatory.
With bifold doors, smooth movement is a must, and that is something that we take pride in. We offer only the best doors made from high quality materials, with efficient movement and robust workmanship.
We know that you are on a budget, and that's why most of our doors come without hardware – most people prefer to select their own hardware for internal doors, so we keep costs as low as possible by supplying the best in the things that you need, and not padding out the box with stuff that you are simply going to discard.
If you'd like to know more about our range of doors, please do not hesitate to give us a call. Our sales team will be happy to discuss our selection with you, and give you any advice that you might need about picking new doors whether using wooden frame or aluminium frame. Call us today to see why so many builders and trades people – as well as home owners that are enthusiastic about DIY and interior design – call us their preferred supplier for internal and external doors.