Secure Aluminium Door Systems
If you want to make a commercial property look stunning while still maintaining good security and energy efficiency, then our aluminium door systems could well be the answer. We have a large selection of aluminium door systems in a number of different styles and sizes, with most common sizes in stock or on display in our showroom, ready for quick dispatch. If you want something that is more unusually sized, then you should give us a call because we can do bespoke orders too!
In addition to robust aluminium doors, we also have uPVC and wooden doors too. The appeal of aluminium for commercial properties is that it is strong and durable, easy to clean, does not flex, warp or swell, and is very secure. This means that it will look like new even years after installation, and it will do the job of keeping intruders out of secure areas, and keeping public areas warm and dry in the winter.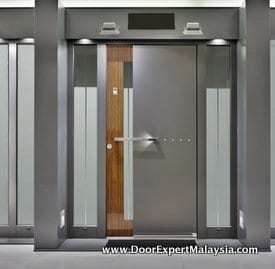 We choose only the highest quality products, and every single one of our doors comes with a robust guarantee. Many of our doors are rated as fire doors too. Talk to our salespeople if you would like to know more about a specific door or set, or need advice about locks, handles or installation.
Our showrooms welcome visitors, so be sure to drop in if you would like to see what we have to offer. We have a dedicated customer service hotline for commercial and residential customers too. Give us a call if you would like to know more, and we will discuss your needs and budget, and give you some ideas to choose from. We're confident that once you've seen what we have to offer, you'll understand why we are the first choice for aluminium doors in Malaysia!