Aluminium Sliding Door Solutions
We are a leading supplier of aluminium sliding door solutions for Malaysian homeowners and businesses. We offer a large selection of doors including not just sliding doors but also bifold, French and single solutions.
Our range of aluminium sliding doors includes heavy, secure doors with flush panels as well as doors with attractive glazing designed to let as much natural light through as possible.
Sliding doors are a good choice for when you are looking to enjoy the benefits of open plan living with the comfort and security of separate rooms. Unlike bifold doors, sliding doors are low profile. The leafs of the doors slide into the walls when you open the doors, which means that they do not take up a lot of space; you have have as much or as little furniture as you like around the doors, without any issues.
If you are unsure whether your home can accommodate sliding doors, or whether you are not sure what size you need, then please do not hesitate to give us a call. We would be happy to discuss your options with you and explain how to measure a door to get the best possible fit. Not all homes are suitable for sliding doors – you will need sufficient wall space on each side for the doors to slide open, and the walls will need to be suitably deep too.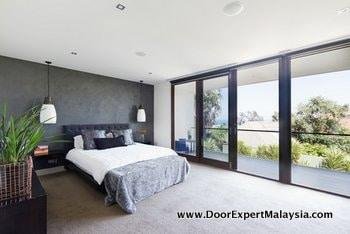 We take pride in supplying the best doors, made to the highest standards out of the best materials. We also take pride in offering the best customer service and having a generous warranty on everything we supply. Call us today to learn why we are the first choice for so many renovation projects, and let us show you our vast range of stylish sliding door solutions.