Aluminium Door and Frame Deals
If you are doing a major property renovation and want to make sure that your home looks as stunning as possible, then why not look into getting some aluminium doors fitted? We have some great deals on aluminium door and frame bundles, that are ready for you to hang into a rough opening.
Our aluminium door and frame kits are ideal for external doors where you want to make sure that the door will last as long as possible and not show signs of weather related wear and tear. We sell uPVC and wooden doors as well, but our aluminium doors are made from brushed aluminium that looks stunning no matter what environment it is used in, and can be expected to last for decades!
Aluminium is lightweight but very strong, which makes it perfect for use in glass doors – including French doors and sliding doors, where you want to make sure that the door is strong and secure. The frame itself will not warp or swell, and can easily handle the weight of double glazing.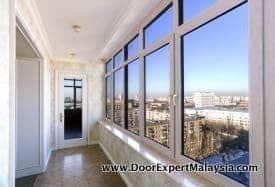 If you would like to know more about the deals we have on offer, just call us to talk to a sales advisor, or drop in for a quick visit to one of our showrooms. We would be happy to discuss your options with you and help you find the perfect frame.
We have been supplying the Malaysian marketplace with door frames for many years, and we hope that you will be able to tell from our selection that doors are our passion. Whether you want a standard sized door or are looking for one of our more unusually sized bespoke products, call us today so that we can help you put the finishing touches on your home renovation project.