Browse Our Interior Solid Wood Doors
Interior solid wood doors offer soundproofing and privacy, and can be styled to suit almost any property. We have an impressive selection of wood doors, including simple flat panels, and ones with more ornate molding.
You can stain or paint interior solid wood doors to make them match the rest of your interior, or leave them relatively 'untreated' to show off the grain of the wood. Either choice offers something stunning that will match most interiors.
Interior doors are often overlooked during renovation projects, but they are an important part of any home design. The right door, architraving and hardware will make all the difference to how your finished design looks, and will help you to round out the design. For best results, try to have matching door styles throughout the property. Even if the openings are different sizes, so you have some larger doors and some single panel doors, you can still match the architraving, the panel style and the hardware. That consistency will create a subliminal look of polish and completeness, that will make the whole house look more 'together' and give you a stunning design.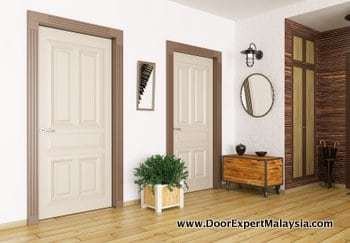 We are a leading door company in Malaysia and we have a selection of single doors and door sets, as well as folding doors and sliding doors to suit most properties. We stock only the best designs made from high quality woods, and we take pride in offering the best workmanship.
Choose from a selection of doors in standard sizes, or get in touch with us to discuss your needs if you want something in a bespoke size to suit a non-standard opening. Our customer service team will always be happy to help you. Often, adding sidelights to a door will help it to fit a bigger opening.