Quality Sliding Wardrobe Door
We are a leading supplier of doors for Malaysian property owners. We have a large selection of doors to choose from, including internal and external doors in a range of styles.
Our sliding wardrobe doors are very popular with people who are looking to maximise the available space in their homes. These stylish sliding doors keep your living space looking tidy while keeping the use of floor space to a minimum. The doors open fully, making it easier to get items in and out, and the roller setup makes them easy to manipulate, even for those who have mobility issues.
Sliding doors are great for a kid's bedroom, or for a household with pets, too, since there is less risk of fingers (or tails) getting caught in the door as it shuts. If your home's layout can accommodate this style of door, it makes a simple and affordable child-proofing update that looks stunning, and will blend with the rest of your decor.
A No Hassle Upgrade to Your Interior Design
All of our closet doors are made from the highest quality materials, and include all of the hardware required. Fitting is also included as standard. All you need to do is choose the door, and we will do the work for you.
Choose Your Size and Style
Our sliding wardrobe doors are available in most common sizes, so if you have a standard-sized closet all you have to do is place your order and we will have it ready for you promptly. In the event that you need a more unusually sized door, we do have a bespoke service, and can custom make other sizes upon request.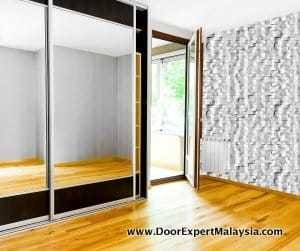 Choose from glass, wood, laminate or uPVC depending on your preferences. We have something to match any room and any style.
We have been working with doors in Malaysia for many years, and take pride in offering the best workmanship and the highest quality materials. We guarantee our installations, and are committed to offering the best and most professional service. If you aren't sure what size of door you need, or what would be the best choice for your room, please to not hesitate to give us a call. We would be happy to answer any questions you might have and help you to choose the best door for your needs.
Call us today to discuss your needs, and find out why we are Malayia's leading door supplier.