Bedroom Wardrobe Closet Door
Make your living space look nice and tidy with our stylish and simple closet doors. We are a leading supplier of doors to homeowners in Malaysia, and we have something to suit everyone. If you are renovating your home and want a new wardrobe door that matches with the rest of your decor, then we can help you.
Our range of closet doors includes simple and stylish wooden doors in a number of patterns, as well as uPVC doors too. Choose from swing or sliding designs to suit the layout of your property. Our space-saving sliding designs are a great choice for homes where floor space is at a premium.
A Stylish Selection of Wardrobe Door Designs
We stock a large selection of doors in the most common sizes, and we are also able to custom-make ones to suit other more unusually sized openings. If your home has an unusually small or large entrance to an under-stair closet, for example, then give us a call. We would be happy to discuss your options with you and come up with a bespoke design that will work for your property.
Something for Everyone
Whether you are looking for country style, homely, chic or modern, we can help you find the perfect design. A door is so much more than something to lock things behind. Our closet doors hide clutter from view, and add a touch of style to the room that they are in. They can complement the architrave, skirting and window treatments, and add symmetry or contrast to the room as desired.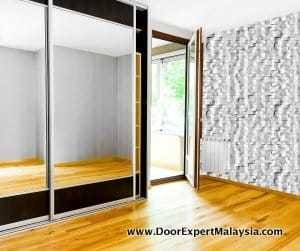 The Best Doors and Affordable Prices
We take pride in offering only the best products. We stock doors made from wood sourced from sustainable forests, and we carefully evaluate the products that we choose to ensure that they are robust and durable as well as great looking. All of our doors come with the fixings and accessories required for them, so you don't have to worry about paying for hinges, tracks or handles separately. We will also install the doors for you, and installation is included as standard as apart of the price.
We are passionate about doors, and we know that you really care about your home's interior design. So why not call us today and see why so many homeowners in Malaysia choose us as their supplier when they are redecorating their homes. We are here to make your next project a breeze!