Quality and Affordable Digital Front Door Lock
If you are looking for a simple and effective update to your home security that will make your life a lot easier, why not consider getting digital front door locks. Many homes still rely on mechanical locks, and while these do have a lot of value they are not without problems.
No More Keys
Keys can be copied, lost or stolen, and the moving parts can get damaged too. This means that a lock can seize up, leaving you locked out even if you do have a key. If you need to revoke access to the property from someone, then you may need to change the locks because you cannot be certain that they haven't had a copy of the key made. Digital front door locks make your life so much easier because controlling access becomes a simpler task. You no longer have to worry about forgetting a key and getting yourself locked out or losing your key when you're out and about. You can give a passcode to a child so they can let themselves in after playing outside and not have to worry about their 'key' going missing.
Security The Smart Way
Many of the more modern models of digital front door lock come with an app for popular smartphones that allows you to control the door remotely. So, if your child forgets the passcode, you can let them in. If a visitor arrives early and you are stuck in traffic, you can let them in. It's a simple thing but it's a huge time saver!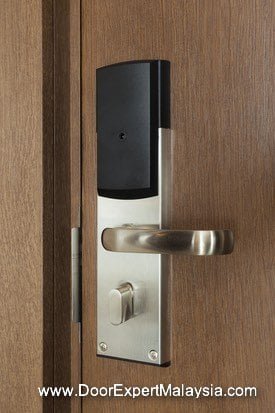 We Care About Your Home
We are a leading supplier of doors and accessories to the Malaysian marketplace. Our team has many years of experience working with homeowners in Malaysia to find the perfect interior and exterior doors for their properties, as well as helping with handles, doorknobs, locks and other accessories. We take pride in providing only the best products from the most reliable suppliers and we understand how important peace of mind is, which is why we carefully selected the brands of digital locks that we provide. If you have any questions about those locks, or are not sure if they would be suitable for your home's front door, then please get in touch with our sales team. They would be happy to guide you through the process of selecting the perfect digital lock so that you can rest easy knowing that your home is protected.