More and more property owners – both commercial and domestic – are moving towards using smart or digital door locks. Traditional keys are useful, but there are a lot of challenges with them. If there are several people who need access to a property then a traditional key can cause lots of problems. What if a dishonest staff member copies your keys? What if your child loses their copy of the front door key while they're at school? What if you go out and lock your keys into your home? These are all problems that a digital door lock could solve.
Digital door locks come in a number of different forms, from simple 'push button' locks to touchscreen locks and more sophisticated locks that feature mobile apps that allow you to operate the door remotely. Many models also have an analog key, so if someone forgets the unlock code or the lock malfunctions there's a convenient and easy way to get back in.
A Good Option When Several People Need Access
If you're looking for a robust, reliable and simple way to secure a door; whether the one to enter your property, or a store cupboard or an important inner room, then a digital lock is a good solution that allows you to control the comings and goings of several people. It is far easier to protect yourself against security breaches with a digital lock since you can change the passcode more easily and cheaply than changing multiple keys. In bigger organisations people often change the passcode to their doors on a weekly or monthly basis as a simple security precaution.
We Are Here to Help You Find The Best Security Measures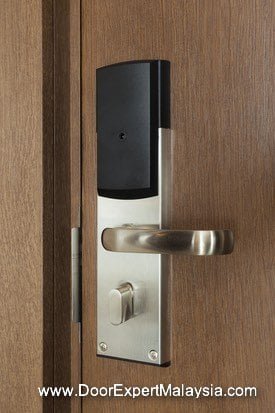 We are a leading supplier of doors, fixtures and fittings for property owners in Malaysia. We have many years of experience in working with homeowners and commercial property owners. Our committed and enthusiastic team is here to help you understand your options when it comes to doors and security. If you're not sure whether a given door would work for you, or whether the lock you are looking at would fit your existing doors, then please do not hesitate to give us a call. We take pride in offering the best customer service and would be happy to explain your options to you so that you can find the best digital locking systems to meet your security needs.