Why Need a Digital Entrance Lock
If you have an office, store or other building that has a lot of comings and goings, then security is going to be a priority for you. It is not practical to give out keys to numerous people, especially in the retail sector where there is a high turnover of staff and the risk that a disgruntled employee might steal or copy the keys.
Digital entrance locks are a simple and effective answer to the problem of access control. Some homeowners are even getting them installed because they offer such convenient security. Why give a child a key to the front door, knowing they will likely lose it at school when you can just have them memorise a code?
With digital entrance locks, you can set a simple, easy to remember but hard to guess code that will open and lock the door. Some of the digital locks that we sell have a backup key, so in the event that someone forgets the code there are other options for getting in.
Take Your Security to The Next Level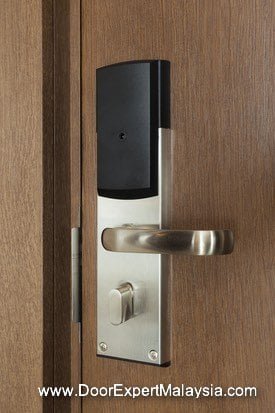 There was a time when only the biggest companies had digital locks on their front doors, but now the technology is both affordable and reliable, making it a good choice for small business owners and even homeowners in Malaysia. Some sophisticated entrance locks will make you feel like you're living in the future, with remote control apps that will allow you to open and close the door for visitors via your smartphone. It's a great feature that makes life so much easier.
Smart locks are more secure than key-based locks in many ways, since you can change the passcode whenever you think there has been a breach, or even change them on a rotation to prevent breaches.
We Take Pride in Our Hardware
We take pride in offering only the best, most reliable and highest quality doors, hardware and fixings. We have many years of experience in supplying people from all over Malaysia with quality doors and related accessories and offering the best service at every step of the purchasing process. If you are not sure whether a given entrance lock would fit your door or whether the locking system would be suitable for your needs then our team of expert advisors would be happy to help you. Call us today to learn why Malaysian homeowners choose us for all their doors and security needs.