Custom-made Sliding Barn Door
Add a touch of rustic, European class to your interior with our selection of sliding barn doors. We have a large range of classic, homely looking barn doors in a selection of different colors and styles to suit any interior.
Our sliding barn doors look traditional and homely, and make great room dividers. The heavy, durable wood offers good sound insulation, and provides nice thermal insulation too. The sliding design takes up less floor space than a traditional hinged design, making the room feel bigger. These doors look neat, are easy to operate, and offer an appealing appearance too.
If you are looking for a way to divide two large rooms in your home, and you dislike PVC and feel that glass doesn't offer the insulating properties or privacy that you need, a barn door could well be the answer. These doors are squarely back in fashion, and it's easy to understand why.
Sustainable, Quality Wood
We offer barn doors in a range of sizes to suit most properties. We choose only the best suppliers so that we can produce the highest quality doors, with good quality control and materials sourced from sustainable forests. If you need something in a more unusual size, we can help you. We make doors to order and take pride in the quality of manufacturing work. Our doors come with robust manufacturer's guarantees, so you can buy with confidence and know that the door will last you for many years.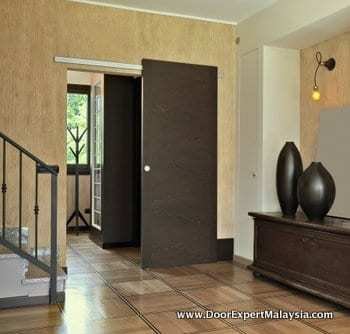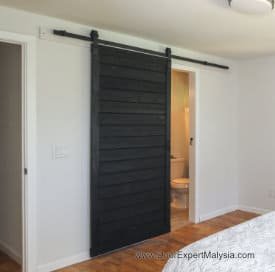 Doors Fitted To Your Specifications
All of our doors are supplied with all of the hardware required for fitting. We also offer installation as standard, so you don't have to worry about hanging or fitting the doors yourself. The price we quote is the price you pay to get the door delivered and installed. There are no hidden charges./p>
Our technicians are highly trained, and take pride in offering the best and most professional service. We have been working with doors for many years and are a leading supplier to Malaysian homeowners and for commercial properties too. If you would like to know more about the doors that we offer, or need some help choosing something for your property, give us a call today. Our team would be happy to dicuss your needs with you and advise you on the most suitable solution. Contact us now to see why so many Malaysians choose us for all of their door needs.