Use A Barn Door As A Stylish Space-Saver
Many people find it challenging to fully express their design ideas when they're decorating interior spaces. Small rooms that require a lot of furnishings are especially tough; space is at a real premium in situations like this.
Enter the barn door! Mounted on an overhead rail that allows it to slide smoothly and effortlessly along a wall, this sort of door is incredibly versatile. It's ideal for use on bathrooms and closets. Because they do not need to swing into a room, these doors have very small footprints.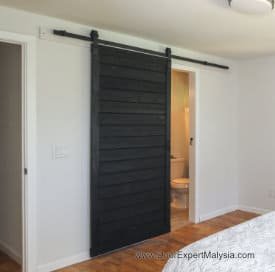 How Do Barn Doors Work?
They are hung from a rail fixed to the wall above them. This rail is carefully leveled so that the doors are finely balanced and easy to open. Our barn doors also have a bottom guide to keep them perfectly vertical. This stops the door from wobbling or banging into the baseboards behind it. Note that barn doors do not normally lock since they don't rest in a frame like a conventional door. This makes them unsuitable for use in areas where privacy and security are important. When you need a visual and auditory barrier and space is at a premium, though, a barn door is ideal!
What We Can Do
We can make these doors from a huge range of different materials, including solid wood, synthetic composites, and glass. Your doors can be finished in virtually any style and color, so you can be assured that they will fit your decor. Barn doors are associated with a rustic, traditional look, but we can also build them to blend seamlessly into more contemporary styles.
As with all of our doors, we build barn doors in a number of different common sizes. We would be happy to produce custom doors to fit your exact needs! All of the hardware required for a proper installation – top rails, bottom stops, and handles – is included with each door we sell. Like the material and the finish of the door itself, your hardware can be customized to fit the look of your room. We also handle every part of the installation process for you to ensure that your new doors are hung in perfect, long-lasting working order.
Our Quality
We take pride in building all of our doors to the highest possible standards of craftsmanship and quality. We use the best materials, the most experienced builders, and the latest tools. Customer satisfaction is our top priority, and we seek it out by delivering top quality products and industry-leading service on every job. Let us help you solve your space challenges with beautiful, compact barn doors!