Secure Aluminium Back Door Designs
Are you looking for a back door that is robust, secure, but looks inviting too? If so, then you've found the perfect supplier!
We are a long-standing Malaysian door manufacturer that has a wide range of secure aluminium back doors in our range. We supply both homeowners and commercial companies and tradespeople, and make doors for both homes and offices. Give us a call today, or send us an email, to learn more about the products that we have to offer. We are confident that after talking to us you will come to see why we are such a well respected supplier of aluminium internal and external doors in the Malaysian marketplace – for homes and businesses!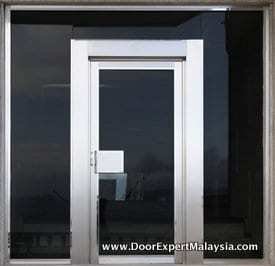 Our aluminium back doors are designed to be as hardwearing as possible, and feature good thermal insulation and noise buffering, as well as great performance from a security perspective too, with reinforced glass if you choose a glass panelled door, and strong construction on the flush or solid doors.
We make doors in a number of different sizes, and we're proud to say that our aluminium doors are wholly recyclable to minimise your carbon footprint. We know how important it is to ensure that your new build or renovation project is environmentally friendly, and we're committed to following the highest building standards in terms of energy efficiency too.
Aluminium ages well and is not prone to weather damage. These doors are easy to clean and maintain, and not susceptible to wear and tear.
If you'd like to know more about our range of doors – including not just external ones, but internal doors too, then please do not hesitate to contact us. Our sales team would be eager to discuss our range with you.