Classic and Traditional Wooden Doors
What better way to make your home look, well, truly homely, than to invest in traditional wooden doors. A good door is a true focal point for the rest of the property. It sets the tone for what else you can expect from the property; what lies behind it. It is something that will impress visitors and help to make your home more appealing to buyers, should you ever decide to sell.
If you're in the market for a new door, there are a few things that you should think about. Firstly, what is your budget? Doors can vary massively in cost – and what you get varies too. Are you just getting the door, or do you also get the glazing, the frame, hardware, etc? Is the door pre-finished or unfinished, so that you need to stain and treat it before you hang it? Sometimes, paying for the convenience of getting a pre-finished door will work out better in the long run.
Traditional wooden doors are usually made from hardwood, and are quite ornate and imposing. They make the property look more serious, but in a good way. In addition, because they are so robust, they offer good security, and they have a good insulating effect as well. This means that they can help to cut your energy bills in the long term.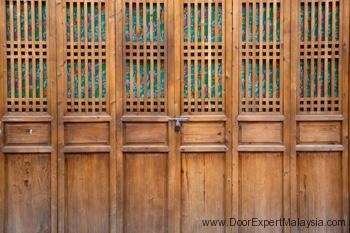 If you need any help or advice about buying doors – including advice about measurements, or which doors are the easiest to fit, please do not hesitate to give us a call. We would be happy to work with you to help you find the perfect product to suit your needs, and our team takes pride on providing the best customer service, prompt delivery, high quality products and affordable prices. Call us to see why so many Malaysian builders rely on us for their interior and exterior doors.