Why Should You Consider Installing a Commercial Wooden Door
Currently, wooden doors have become very popular for most buildings. They can be installed in the interior entry ways or fire exit doors for their many benefits. Well, if you're looking to install a wooden door for your commercial building, you should consider hiring our company for the best results.
So, Why are Commercial Wooden Doors Popular?
First, to most businesses an aesthetic appeal is very important to the clients. They need to find a place that's comfortable to do their business. On the other hand, the office building needs to be appealing and inviting to all and sundry. Well, there is no way to improve the beauty of your commercial building than installing wooden doors for all entry points.
Secondly, most commercial buildings have architectural designs that are quite enticing and magnificent. Installing a fibre glass door or PVC might throw away the overall beauty of the place, regardless of how good these optional materials might look. On that note, whenever you're in doubt, you should consider a exterior wooden door for your commercial building since they have an historical charm that can't be achieved with any other types of doors.
Finally, most commercial buildings have to be complaint with the fire department's rules and regulations. Therefore, by installing a commercial door, you can rest assured that you can handle fire ratings using a very low cost.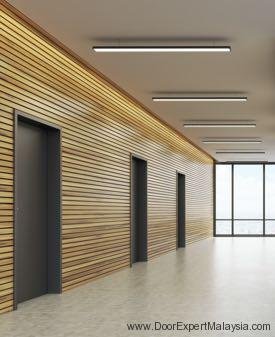 So, Why Should You Rely On Our Services?
There is nothing as good as having the top door company in Malaysia by your side if you're looking to install a wooden door in your commercial building. So, you can always contact us and request a quote for the services we provide. Even better, you will get a good chance to look through our numerous designs and get the best one for your building. Try us today and enjoy these and more benefits.