Perfect for its space-saving feature, it's chosen by homeowners living in an apartment, condominium or flat.
While adding style element and aesthetic beauty to one's space, this door opens and closes just right, leaving you enough room to move.
We are a one-stop showroom offering a wide range of pocket door, a door that slides and disappears into an adjacent wall when opened.
A door system establishing a counter frame attached with a wall made of metal or wood. Its frame serves as an envelope of the same width as the wall for the pocket door to slide into and disappear into a cavity.
Materials Used & Applications
Materials Used
Metal
Stain Grade Wood
Resin
Other custom door materials
Applications
Rooms
Kitchens
Patio or deck
Closets
Others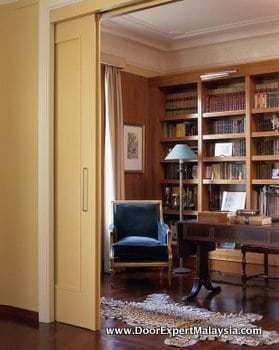 Features of a Pocket Door
Internal operating mechanism, giving space inside the pocket to stack door panels
Customizable engineering, meeting specific project requirements
Adjustable jambs, aligning correctly for easier operation
Low profile door hinges, improving aesthetics and safety
Finishing choices, adjusting to the wall finish parameter or partition
Space-saving, maximizing any space constraints yet still
Aesthetic appeal, giving that aesthetic look to match any home design
Our company specializes in all types of doors, meeting your design and material requirements.
We invite you to visit our showroom where a wide array of pocket doors based from your budget, specification and style are displayed. We customize and ensure that the new installation will work in harmony with your current interior design and theme.